August 2022 was a wild month. Unfortunately, there was some negative news from my P2P platforms. First and foremost, Bondora unfortunately had to announce in August that there will currently only be the product "Go & Grow Unlimited" for new customers. For me as an existing customer, nothing will change for the time being. Nevertheless, the announcement worries me, as Bondora could also adjust the interest rate of existing Go & Grow customers at any time.
Another problem arose in August with ViaInvest. As I reported earlier, there have been problems with the system since the switch to asset-backed securities. In part, numbers in the web interface are no longer correct and in part, features such as the account statement are without function.
As with many households, in August we unfortunately also received information from the local supplier about the price increase of the gas tariffs. This also hit us hard again. Our monthly installment payment will increase from 168 EUR to 336 EUR per month. In total, we pay 441 EUR per month for gas and electricity to the local supplier. My additional investments in P2P loans or cryptos, in addition to my depot, I will therefore shut down for the time being.
Interest income from P2P loans
As always, here is an overview of my investments in the P2P environment.

Currently, 11,818.98 EUR are invested on four platforms. A large part of it is with Bondora, since I can make the money available quite quickly here. In total, I could earn 78.08 EUR interest with this invested sum (before tax).
In addition, I track the interest values monthly using the Portfolio Performance tool.

Unfortunately, I only get a total interest rate of 8.02% in August. Somewhat better than in July, although I suspect that this value is due to the possibly incorrect figures from Viainvest.
Bondora*: If you sign up through my referral link, Bondora will give you 5 EUR starting credit.
ViaInvest* gives you, if you use my referral link, 10 € bonus. Here, only 50 € must be invested.
But let's take a look at the P2P platforms individually.
Bondora
At Bondora, I have been using the Go & Grow product for years, which has an interest rate of 6.75%.

Here, everything continues to run like clockwork. Interest is paid daily, and the money can also be withdrawn directly. Currently, Bondora still has a deposit limit of 400 EUR per month.
I myself have reached my limit at Bondora and have resolved to not only withdraw the interest monthly from now on, but to reduce the investment value somewhat. In the end, I assume a value between 5 and 6,000 EUR, which I will still leave on Bondora.
Mintos
There was not much news at Mintos in August. I still have a decent amount in arrears. Unfortunately, this sum has not decreased noticeably compared to the previous month.
For the time being, I will not invest more than the existing 500 EUR in Mintos. I have changed my autoinvest so that only bonds with a double-digit interest rate and a few months to maturity are selected.
Unfortunately, due to the old Mintos strategy, I still have a few individual loans in the portfolio, which have a remaining term of over 23 months. These can also no longer be sold via the secondary market.
Iuvo Group
I have always been satisfied with Iuvo. Except for the Russian loans, I currently have no outstanding payments here. However, the credit offer has diminished, at least when it comes to loans that match my strategy.

Disappointingly, there are almost no more loans with a good rating and an interest rate of at least 10% on the platform. My autoinvest hasn't triggered for several weeks now, and I can't find any more loans to invest in manually either.
My goal is now to withdraw the free money at Iuvo and to reduce the account balance there to max. 1,000 EUR. If the credit offer does not improve by then, I will probably turn my back on the platform for the time being.
Viainvest
Lastly, I have Viainvest in the portfolio. Actually a solid platform with good credit offers. If it hadn't been for the switch to asset-backed securites.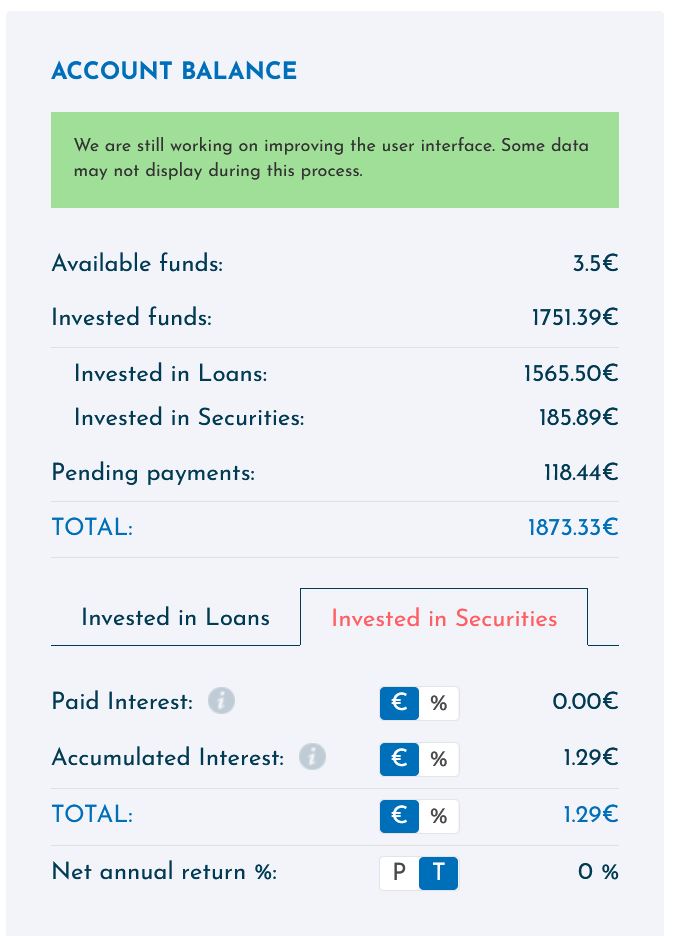 Since the changeover, they have been struggling with technical problems in the web interface. Many functions no longer work, and the account balance was not correct for several weeks. As I myself am in IT and have also managed customer systems for years, I must say that Viainvest has not given a good picture here.
I was missing the active information for the investors, why the problem exists for so long and what happened. If it already takes so long for a planned action until errors are fixed, I don't want to imagine what will happen if the system simply fails due to a data center error.
I am also not yet convinced of the new Securites offer. I have currently stopped my AutoInvest and will also reduce my investment here to 1,000 EUR for the time being.
ETFs
I mainly use the free ETF savings plans of Consorsbank for my securities account. I started with the Comstage ETFs (World + EM) and today I am using the X-Trackers ETFs.
In August 2022 I executed my monthly savings plans as always according to plan on the first of the month as follows:
| ETF | WKN | Saving Rate | Executions |
| --- | --- | --- | --- |
| X-Trackers EM | A12GVR | 245,00 EUR | 1x |
| X-Trackers MSCI World | A1XBU5 | 455,00 EUR | 1x |
In addition to these ETFs, of course, I still have old holdings of Comstage ETFs, which I had brought into the portfolio as distributing ETFs.
I have been managing the portfolio since September 2016 and at the end of August the portfolio was up about 11% (cumulative).
I also track the portfolio with the free Portfolio Performance tool.
Next month, however, there will be a change in the portfolio. I will describe this in more detail below in my future strategy.
Blog-Business
There was little news on the blog in August.
Only the following articles were published here:
There was also a plugin change on my blog. The Yoast SEO plugin had to go.
I had problems again and again when indexing my posts via Google. In addition, the Yoast plugin also did not always recognize the characters and content correctly and thus threw me wrong recommendations.
Meanwhile, I switched to the free RankMath plugin, in the hope that the indexing problems are finally solved, and I also get a little more analysis regarding the SEO optimization.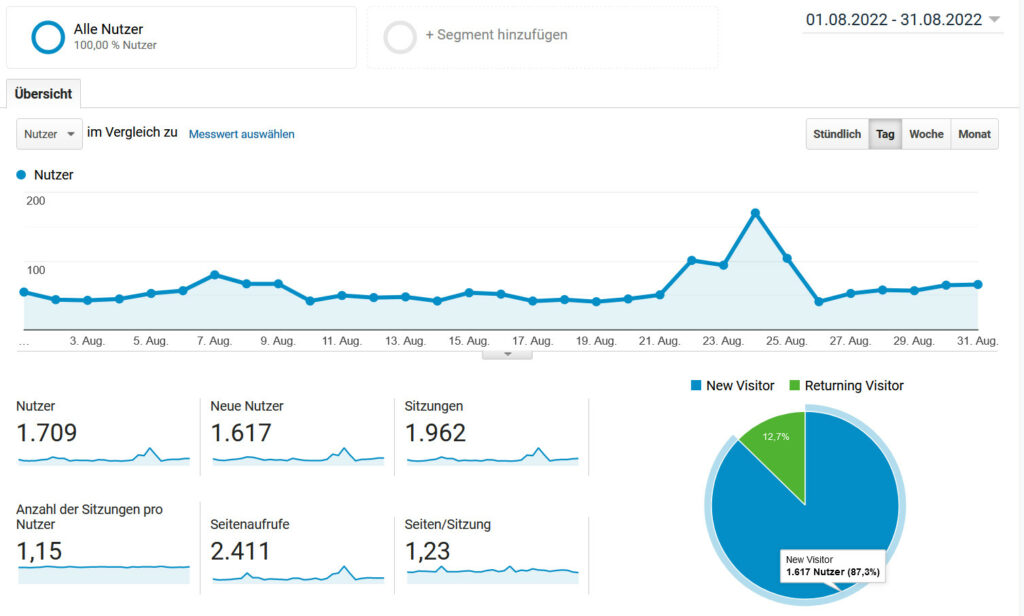 According to the Analytics analysis, just 1,709 visitors made it to the blog in August 2022.
Due to the low number of visitors, the following income figures also only result for August 2022.
Income:
Expenses:
The bottom line is a small plus of EUR 9.50 (before tax).
Future strategy
As mentioned in before, it's time for me to rethink and adjust my actual strategy. One of my goals for the year was to earn at least 100 EUR per month passively through P2P loans. However, I will discard this goal due to the current situation.
I will probably reduce the share of P2P loans in my overall portfolio to 10%.
The money withdrawn from the P2P loans will probably end up in the custody account.
Starting in September, I will not only continue to save for my 2 ETFs in the savings plan, but also add 4 stocks to the portfolio via a stock savings plan. Since I have not yet reached the tax allowance for capital gains and the interest on the P2P loans will also be lower after deduction of the funds, I will get a few well-known dividend stocks.
In addition, I also use this moment to adjust my existing ETF savings plans a bit to rebalance over the next few months.
In the new constellation, EUR 270 per month will go into the EM ETF and EUR 330 into the MSCI World ETF. I will use the remaining 100 EUR for the stock savings plan.
How did your August go?
I look forward to your comments and questions!
---