October 2019 is over and so there are only 2 months left until the new year.
Unfortunately I didn't get much news for the blog in October.
October always means changing tyres.
For my car I had to buy new complete wheels. After I contacted several local tyre dealers and was annoyed about the high prices for 14 inch tyres on steel rims, I decided to order the complete wheels online.
In the beginning I had to consider whether the tires also arrive properly mounted on the rim, without damage here. After 4 days delivery time my doubts were however unfounded. Tires were properly mounted and balanced.
The savings here were about 220 Euro compared to the local dealers.
I had 2 weeks vacation in October, which I spent this time completely at home. Here I mounted the winter tires, cleaned up the garden and did smaller things at home.
In addition I had a short flu, which forced me one day on the couch in front of the TV.
Blog Development
Lately the blog has been rather dragging. Last year I was able to direct more than 10,000 visitors to my blog every month, but this year the number of visitors unfortunately dropped to just under 6,000.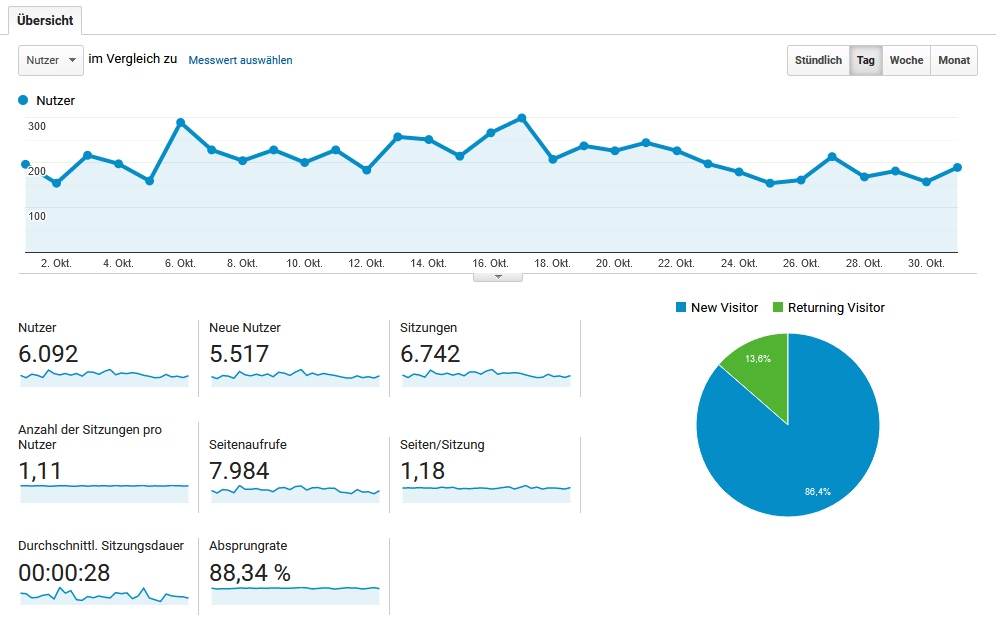 Some analysis also showed that the loading times were not optimal. The big Pinterest pictures blew the whole thing up a bit. Therefore there is now only one Pinterest image per post and this is only integrated via the social share button.
I also activated lazy loading for the pictures. The previous social media plug-in has also been replaced. Now the loading times are much better.
In October I reactivated my subscription at Tailwind and extended the pinboard. I hope that the boost, which I had a year ago on Pinterest, comes again.
Currently, Pinterest is still my main traffic source, but still it gets less monthly. I'm also thinking about changing my general pin strategy a bit.
Income October 2019
As in the other monthly reports, here is a list of my blog income and expenses.
Since I have also invested in Bondora since the beginning of October, I will also publish these numbers here as passive income.
A large part of my income in the Blog Business is generated by advertising revenues via AD display. To keep them on a good course, you need good content.
My Top 10 list in October 2019 of the most read articles was this one: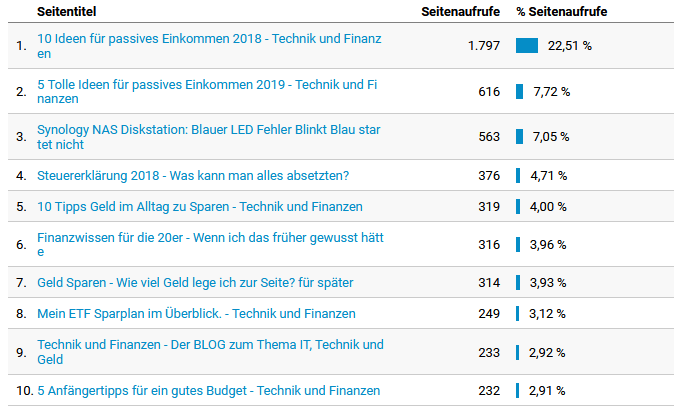 At number 1 is still unbeaten my article from 2018 on the topic of passive income build. But also the new article on this topic from the year 2019 reaches many visitors.
On place 3 there is now finally a technology article. The topic with the hanging Synology NAS seems to interest several visitors. Some articles just need a bit more lead time until they reach the target groups.
Due to the lower number of visitors, my earnings have also continued to correct downwards. In October 2019 I was only able to achieve the following income.
Ad advertising: approx. 60 EUR
Affiliates: approx. 8 EUR
As always there were only the hosting costs of the all incl. hosting: 7,95 EUR
The final result for October 2019 is therefore a plus of approx. 60 € (gross).
From next month on, the tailwind subscription fees will follow on the expenditure side.
Financial status
As already mentioned, I have also invested in Bondora since the beginning of October.
The reason for this was the eternally sinking interest rates on the daily money accounts.
So something new had to be added here.
After several analyses, which P2P platform would be the most useful for me, I ended up at Bondora. I wanted something simple to start with and since Bondora offers a simple investment tool with the Go&Grow product, where I don't have to decide in which countries and to which loans my investments go, this was my favourite.
With a smaller 4-digit sum I have started first of all and come accordingly with Bondora on the following incomes.
Bondora interest October: 7,49 EUR
My ETF savings plan has been used further and has further increased my ETF portfolio. The following positions were added to my portfolio in October.
2,21x ETF x-Trackers WORLD (A1XB5U)
1,61x ETF x-Trackers EM (A12GVR)
The ETF portfolio continues to perform well. At the moment it is around 7% since the opening.
Thus, in October 2019, my financial resources will be split as follows.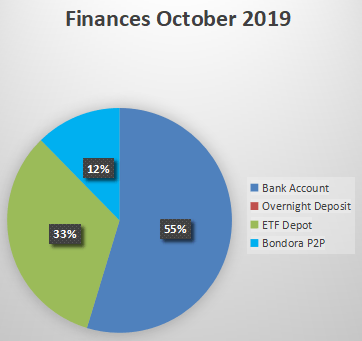 At the moment there is quite a lot on the bank account, but I will change that bit by bit over the next few months.
Targets for the year-end closing
In November I will compare my insurances and basic provider prices once with the competition to correct the monthly costs for next year somewhat downward.
Here I will also check if all insurances I currently have are still necessary and covered with the right amounts.
In October 2019 I started to clean out my stuff again. Starting with my wardrobe I was able to sort out some parts for the bin as well as for selling on eBay. In the last few years, eBay sales have been dragging. Let's hope that more sales can be made during the winter months.
In the basement there are also some cupboards that are no longer needed. This will be a case for ebay classifieds.
In the next 2 months the garden planning for the year 2020 will follow. In January the whole thing will start again with the planting of Jalapeño plants on the windowsill. Unfortunately I forgot to plant some winter vegetables this year, so the garden beds are currently empty.
I would like to continue working on the blog. Besides new posts I will also try to get new backlinks.
How did your October go?
---