Another month is over and of course I was able to generate some passive income again. As many readers know, I used to build my passive income mainly P2P lending platforms and banner ads as well as affiliate links on this blog here.
How the whole thing has developed and what my further procedure concerns, you will see today in this article. First, though, let's get to something general.
We treated ourselves to some time off in May 2022 and flew to Greece, more specifically we went to the island of Rhodes to the "Rodos Princess Beach Hotel" (highly recommended).
A detailed travelogue I will publish here yet, one is however already times in advance said, Condor as well as the Fraport AG, cut here miserably off! (I ask myself, so seriously, what we still can in this country at all).
Directly after our vacation, we went to the classic car meeting in Obernburg, to the so-called "beetle plague". But it wasn't as nice as it used to be, because the organizer seemed to be overtaxed. The GDR vehicles were also not placed as usual on the square behind the old town hall (there were pimped sports cars) and last but not least I rammed the rear on a post.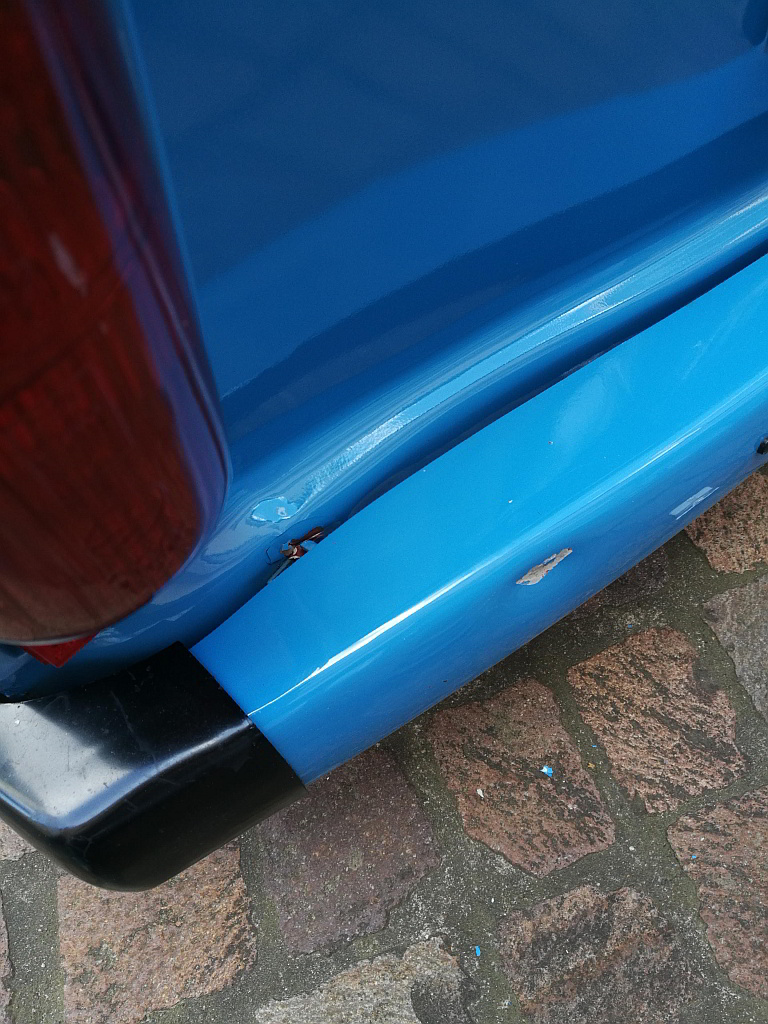 Well, that will be expensive fun again! Here I now have to dent the rear as well as the bumper, filling, sanding, painting and finally polishing
P2P interest rates and my next steps in the P2P lending environment.
May 2022 was another enjoyable month in terms of my passive income from P2P loan interest income.
I use four P2P platforms for my investments so far, which is another pillar besides my ETF portfolio and the crypto portfolio at BISON.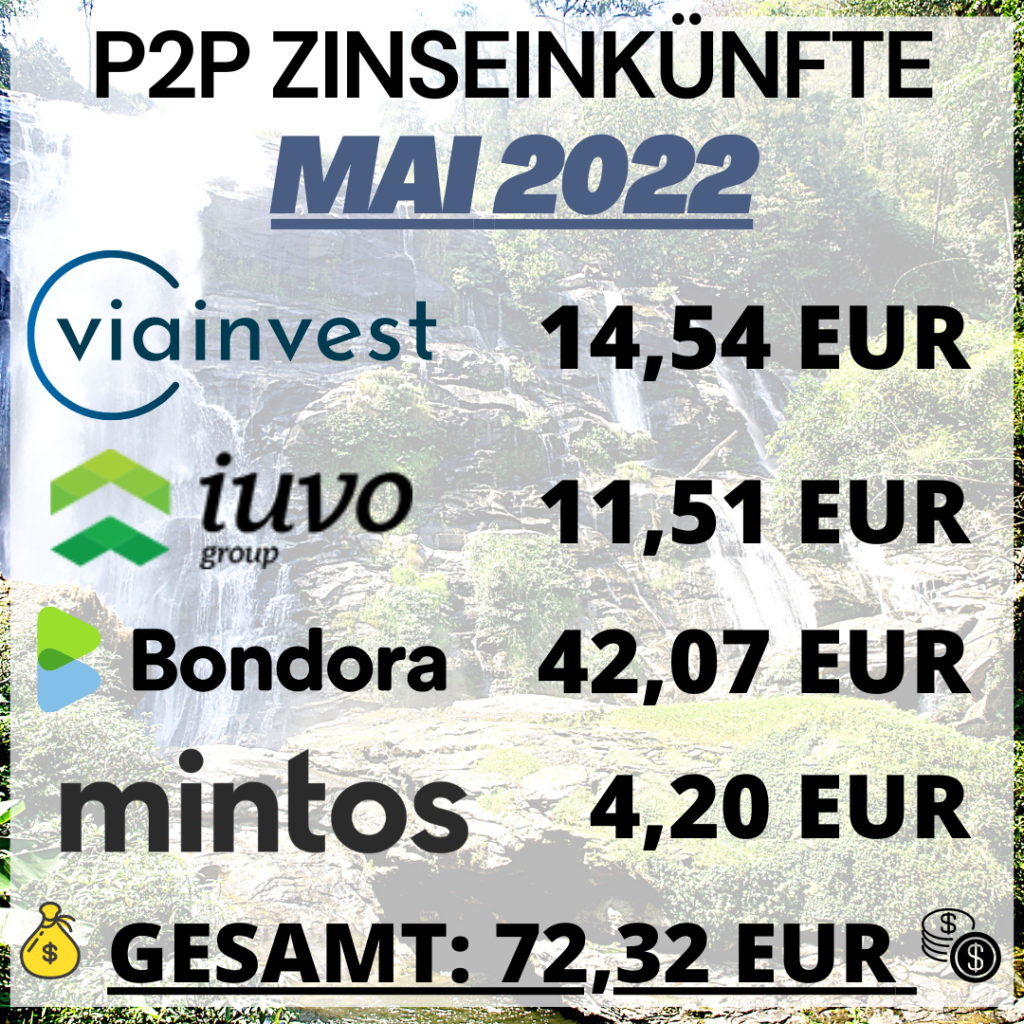 In May 2022, I was able to earn interest in the amount of EUR 72.32. Invested at the beginning of the month were 11,656.72 EUR, distributed over the four platforms.
I did not invest any fresh money last month, but 2 platforms paid me bonuses via the referral program.

As a result, I end May with a total interest rate of 7.55% (excluding bonus payments!), but this means the lowest monthly interest rate for 2022. The crisis is hitting everywhere, not just the stock market.
Bondora
With Bondora, everything continues to run smoothly so far. I only use the Go & Grow product there, which has a fixed interest rate of 6.75%. Here I was able to receive 2 bonus payments per month, which were also immediately allocated to the Go & Grow account. Currently Bondora has set the deposit limit for Go & Grow at 400 EUR per month. Punctually on the 1st of each month another 400 EUR can be transferred to the Go & Grow account.
Bondora also released its new product "Go & Grow Unlimited" in May 2022, where there is no deposit limit and you get a fixed interest rate of 4% instead of the previously targeted 2%. Apart from the lack of deposit limit, nothing is different in the new product compared to Go & Grow. The loan portfolio that underlies the product also seems to be the same. For me, the product is current her uninteresting.
My plan for Bondora: I will neither invest new money nor withdraw for now. I will let my Go & Grow account continue to run and earn daily on the interest, which will be reinvested immediately.
In May I earned 42.07 EUR at Bondora with an investment amount of about 7,553 EUR.
Bondora*: If you sign up using my referral link, Bondora will give you 5 EUR starting credit.
ViaInvest* gives you, if you use my referral link, 10 € bonus. Here you only have to invest 50 €.
Viainvest
There are news from Viainvest. The platform has increased the interest rates for consumer loans to 12% from 01.06. In addition, from 01.06. – 10.06. There is a cashback campaign with 1% extra, so 13% interest.

In general, I must say that I am very satisfied with Viainvest. My entire deposited amount is invested on the platform and there is also almost never an amount that lies around for several days without investment.
In May, I was also able to receive a small bonus payment at Viainvest, which was again immediately invested. Invested were at the beginning of May 2022 just under 1,781 EUR, which have earned me 14.54 EUR interest.
Currently, I will transfer the funds that I withdraw from Mintos and Iuvo to Viainvest until the account there has reached about 2,000 EUR. After that, I skim the interest above that.
Mintos
Not always everything runs smoothly and so it is with Mintos. In the last few months I am withdrawing more and more money from Mintos until I reach my target amount of max. 500 EUR. Mintos is one of the platforms where I am invested in Russian loans and they are in arrears due to the current situation.
The outstanding payments have increased from 48.70 EUR in April to 108.71 EUR now, of which again 77.77 EUR are Russian loans. I have adjusted my AutoInvest strategy, but I am not really drawn to Mintos anymore. Even from the newly introduced "debt securities" I currently leave the fingers for now.
I did not transfer any money to Mintos in May 2022. At the beginning of May, there were 580 EUR on the platform here, which earned me 4.20 EUR, taking into account the outstanding loans.
My plan for Mintos is to shrink the account to max. 500 EUR and with my new strategy (max. 9 months term, min. 10% interest) to hold this sum and skim the interest monthly.
Iuvo
Now let's move on to my last P2P platform. I have been invested in Iuvo since September 2020 and so far everything has been running smoothly. But also here the terrible war in Ukraine has left its mark and I have 177 EUR in Russian loans which can not be serviced.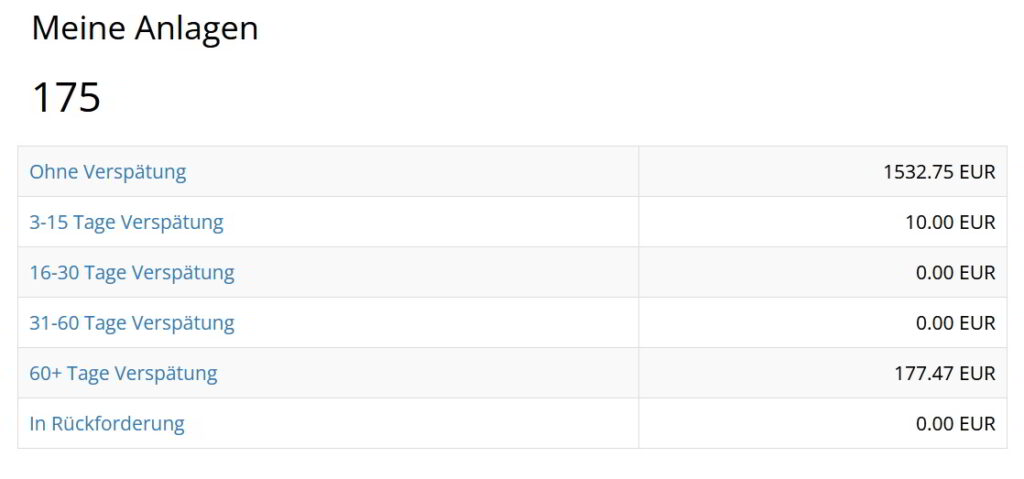 In addition, my performance on the platform is also weakening more and more, as fewer and fewer loans are available that match my strategy. Thus, in May, some money was just lying around without being actively invested.
This is of course also reflected in the interest performance. In April 2022, I still had 9.11% where it was in May only 8.06%.
Almost 1753 EUR were placed on Iuvo at the beginning of May 2022, which earned me 11.51 EUR interest.
The plan was actually to have invested about 1750 EUR on Iuvo and to withdraw the interest monthly. However, since there are currently fewer and fewer loans available, I will probably reduce the size of my portfolio and transfer the free money to Viainvest.
Visitor numbers and blog revenue in May 2022
Besides the P2P loans, I also have the income from the blog business as passive income.
The number of visitors in May 2022 has settled at 2,227 visitors who have accepted the cookies.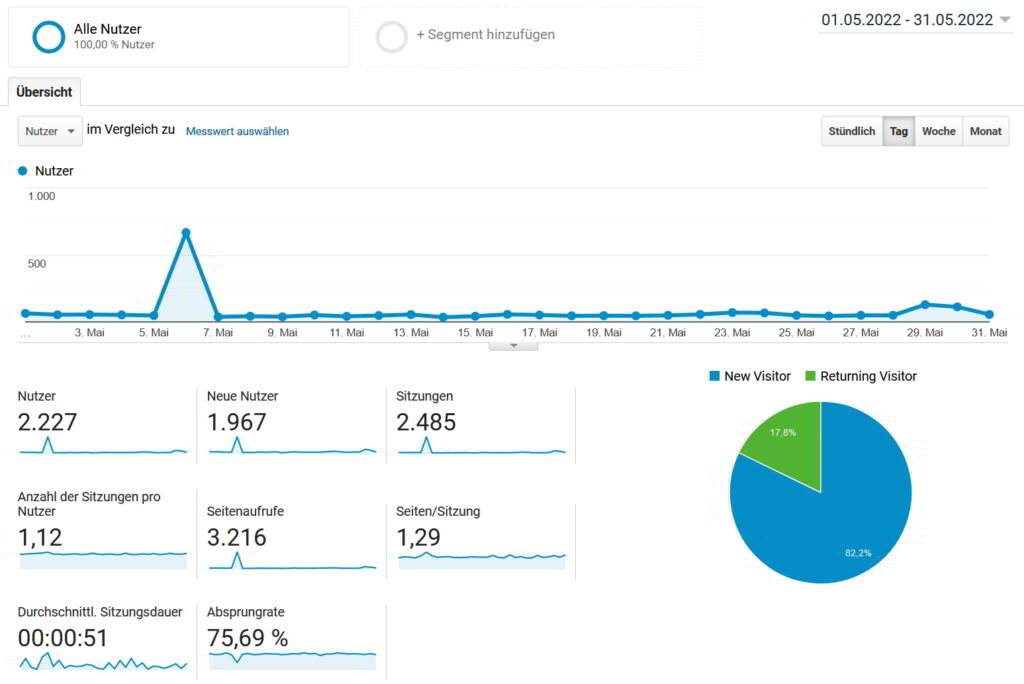 Of course, this is far from my best marks of 20,000 – 25,000 visitors per month, which I still had in 2018. But not much has happened on the blog, so I have to hold my own nose.
I have hardly published new content, nor done anything in the area of Instagram or Pinterest to generate more advertising for the blog.
For the month of May 2022, I was only able to record the following income
Blog Ads: 14,34 EUR
Affiliates: 0,05 EUR
On the cost side, in February there were only my hosting costs of 7.95 EUR.
So the bottom line is a plus of 6,44 EUR before tax.
That was the monthly report for May 2022.
As always, I look forward to your comments and suggestions.
---