June 2021 once again went by so fast. Therefore, it is time again for a current P2P monthly review June 2021.
Many of my readers know my monthly reports. Whether from the area of blog income or P2P loans. I have been investing in P2P loans for more than one and a half years now and would like to give you an update on my investments and income.
Currently, I have 4 P2P platforms in my portfolio, which I have expanded in different ways.
P2P revenues and interest rates in June 2021
As mentioned in depth, I currently have some money invested in 4 different P2P platforms. Among them, I have Bondora with the Go & Grow product, as well as Mintos, Iuvo and ViaInvest each with their own Autoinvest settings.
I track my monthly interest income using the free Portfolio Performance tool.
This resulted in interest rates totaling 9.06% in June 2021.
Mintos and Viainvest were able to make up for the month. Here, I had to tweak the AutoInvest settings a bit.
Nevertheless, I can report decent interest income again for the P2P Monthly Review June 2021.

In total, there was interest income of EUR 48.13 before tax, with an investment of about EUR 7,000. Of course, with a slightly increased cluster risk at Bondora, but I chose that deliberately.
My actual goal of 50 EUR interest income per month I just missed. I think here I will readjust next month a little to reach this goal.
I even withdrew money from one or the other P2P platform last month. More details on this below in the individual information on each P2P platform.
Bondora Go & Grow
Bondora is my first choice when it comes to P2P lending platforms. With the Go & Grow product, Bondora has placed a very beginner-friendly product on the market. Here you don't have to deal with lenders first, but can start investing and earning directly.
Bondora Go & Grow continues to have a monthly deposit limit of 400 EUR (At the 1st of each month 400 EUR are possible again!).
In June, I received interest income of EUR 20.06 at a fixed interest rate of 6.75%. I had withdrawn a part of the newly invested money from Iuvo and ViaInvest in June. My goal was to stagger Bondora with 4,000 EUR and the remaining platforms with max. 1,000 EUR.
You want to get 5 EUR starting credit at Bondora?
Than register now >>>HERE<<< and get
5 EUR starting credit and after investing you'll get another 5 EUR after 30 days.
Mintos
I am somehow no longer completely satisfied with Mintos. There are currently no outages, but there are still more and more loans between 31 and 60 days in late payment. Likewise, there is always some money lying around without being actively invested.
I use my own AutoInvest strategy and 2 Mintos predefined strategies at Mintos.
I sense that this situation will be exacerbated by the new Mintos ranking, as everyone will only want to have the A to C loans in their portfolio.
Otherwise, there is nothing else to report on Mintos from my point of view. I have neither added nor withdrawn any more money in June 2021.
I will continue to monitor the situation over the next few months.
Iuvo Group
Iuvo is my top dog when it comes to high interest rates in the P2P market.
So far I can't find any problems with this platform.
Neither cancelled nor very late loans have been recorded in my portfolio with Iuvo so far. The performance of the website is also impeccable.
Even though I currently got 12.56% interest here in June 2021, I still won't invest any more money for now. I even took out 20 EUR from Iuvo in June and transferred it to Bondora.
Currently, the plan is to let the investment continue and not to withdraw any more money for the time being.
ViaInvest
Finally, here comes my 4th P2P platform, ViaInvest.
As already reported here: "ViaInvest P2P Autoinvest BUG", sometimes I had problems with investing at ViaInvest.
But after I adjusted the AutoInvest again at the beginning of June, it is now running again for the time being.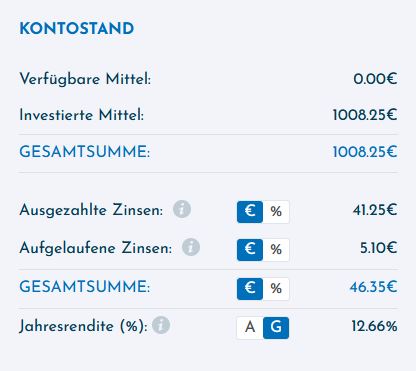 Also ViaInvest has no losses so far, nevertheless I also withdrew 20 EUR here and transferred it to Bondora.
With an interest rate of 12.41% in June 2021, ViaInvest is in second place in my ranking with the highest interest rates. Currently, I will not invest any more money here and let the investment continue.
The only thing that bothers now and then is the partly poor performance of the website. ViaInvest should definitely do something about this.
Conclusion
Currently, all my P2P platforms are doing really well. However, I will not invest any more money for the time being, but let the existing investments continue to generate interest for me.
In addition to this asset class, I also have a call money account and an ETF portfolio, with a split between an MSCI World and an MSCI EM ETF.
So the P2P loans are just another pillar in building my wealth.
I have deliberately kept this time in this article short, to limit the focus on the essentials. I hope I have not annoyed you readers so.
Do you have any questions about my P2P investments or maybe you are missing some information in this article, just leave me a comment.
---