During a fresh installation of a vCenter Server 6 on a Windows Server, the Installation stops with an Error during installing some VMware Services.
Right in the middle of the installation, the following vdcpromo error message appears. "Failed to run vdcpromo"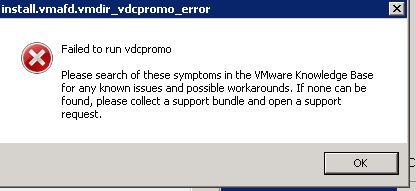 A restart of the Server or a Cleanup of all old vCenter Installation Folders couldn't bring this installation up to work.
The Error has to be inside the Installation Wizard of the vCenter Server 6.0 – Patch u1b.
The only solution that i found was to install the vCenter Server 6.0 without any Patches or using the newest patched version u2a.
As an alternative you could also Install the newest vCenter 6.5, which was release in November 2016.
All Installation iso files could be found in your My VMware Portal.
I'm still not sure in which constellations this error occurs. It appears on a fresh installed windows server as also on Servers which already had a vCenter Server installation.
---